I've finally had the time to write my birth story, it's been sitting half written on my netbook for the last week and now it's finally done.
So finding out that I was expecting baby number 5 was a bit of a shock. We had only taken over the pub a few months earlier, I was still breastfeeding my fourth baby and I'd had the implanon put in. The pub is in a remote area and our nearest hospital with a maternity unit was around 2.5 hours away. Not that I intended to birth in a hospital after having a homebirth in December 2008. Our dilemma was that there were no independent midwives nearby - only in the city - 4 hours away. Usually labour progresses fairly quickly for me and I doubted that a midwife would even make it out here anyway. Not just that, but if I DID need to transfer, the hospital was too far away. Finally we decided to apply to the community midwifery program and I would travel to the city and stay there from 36 weeks until the baby was born.
I stayed at my in laws house for the first 3 weeks, I was so sure the baby would come while I was staying there and I felt on edge because every little niggle I had made me wonder if I was going into labour - I needed to get the hubby down from the pub in time. But three weeks came and went and hubby arrived with the kids when I was 39 weeks pregnant. We moved into hubby's sisters place(her and her hubby came to the pub to run it for 2 weeks). Now the niggles started kicking up a notch - I was certain I'd have this baby before her 'due date'.
Wednesday the 13th of May rolled around. I woke at 5am to a contraction and I knew instantly that labour was starting. The were coming every half an hour from then on, they were quite painful, low down at the front. It just happened that hubby's cousin was in town for 48 hours and we were meant to head over to the in laws for dinner. I felt bad, but decided to stay at the house and sent Matt over with the kids while I just rested and dealt with these contractions that were still about 20 minutes to half an hour apart. I knew that she would come the next day, the 13th just didn't seem right. Anyhow, I still texted my midwife around 5pm to let her know I had been having contractions but didn't expect anything to happen til the following day. I was glad to get some sleep that night, the contractions were still coming but were a bit further apart, I only woke during a few of them.
I woke up around 5am on May 14th, the contractions had picked up again. I told hubby he'd have to ring his mum in about an hour or so and tell her not to go to work. I knew today would be birth day. I had a shower and had breakfast, then reorganised our homebirthing stuff. We started filling the pool at 6am because I felt like I needed it soon, the pain was all in that same area down low in front. I went back and forth to the loo a couple of times and each time I felt a whole lot of pressure in my bum. That was when I decided to let my midwife, Mel, know things were happening and if she could come around. This was just after 8am. I texted my friend Karin, who lives out here in the bush to tell her things were well on their way and to head to Perth as she was going to photograph the birth for us.
By this stage, I was feeling tired again - so I lay down on the end of the bed and dozed until 9am when Mel arrived. So we watched a bit of TV, the contractions were coming in clusters of three, around 3 minutes apart and then I felt like I was sitting around for ages waiting for the next lot. I did feel like they had slowed down even more when Mel arrived, I think I felt a bit anxious that I had called her too early and have her tell me I wasn't in 'real labour' even though I knew deep down that I was. After an hour or so I had a banana to eat and then decided to go for a walk around the backyard because the contractions were still irregular. I stomped around the backyard with Matt trailing along behind me, the backyard isn't huge, so I did laps around it and got pretty bored really fast - this was when I was updating Twitter and Facebook. I did notice that everytime I passed the fishpond, I'd have a really strong contraction and I'd hang on to Matt and sway through each contraction. The walking seemed to do the trick and I began having more contractions. I'm not sure how long I was outside for, maybe about half an hour and then it was feeling too cold.
At 11.15am, my contractions were more frequent but still irregular. Mel had a chat to me about her leaving for a while and then coming back. At this point I decided to have an internal as it didn't seem like I was in established labour. From past experience though, once my labour progresses things happen FAST (all of my other babies had a second stage of less than 10 minutes). So the internal was done at my request and I was 4cm but Mel said she could stretch it to 7cm, 100% effaced and baby at -1 station. Mel decided that it would be best if she stayed.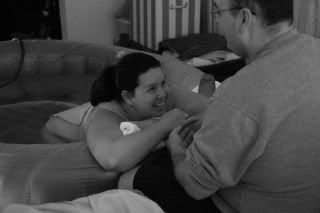 11.40am and I decide the pool looks mighty inviting and there was no reason not to get in. From this point I laboured in the water, still smiling and chatty. I knelt at one end of the pool and remain in this position for the rest of the labour as any other position was just too uncomfortable. Matt sat on the end of the bed in front of me, holding my hand and pouring water on my back during contractions. I swear that the pain wasn't as bad when I was holding his hand - so he'd promptly get a whack to the leg from me if he didn't offer his hand at the beginning of each contraction.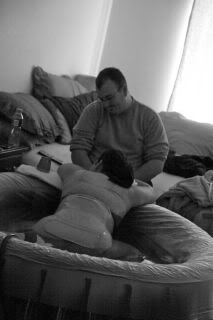 Karin turned up sometime around now, had a chat and she went out to get everyone lunch. Even though my contractions were still irregular I knew things were getting close now, I was starting to get snappy and I really didn't want any lunch.
At 12.18pm the contractions were coming in clusters of 2 or 3 every 5-6 minutes and then at 12.45pm they were still in clusters but 11 minutes apart. Really all over the place but increasing in intensity.
I got out of the pool about a million times to pee. Tried to race back to the pool before the next contraction came because they were almost unbearable out of water.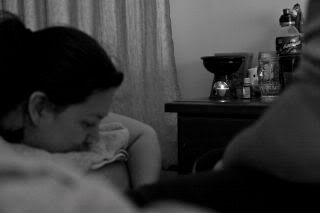 Now I was no longer smiling and chatty, I was getting annoyed at Matt for giggling at Wife Swap. I was vaguely aware of anyone else in the room - Karin sitting quietly on the other end of the bed and Mel was somewhere behind me. I kept waiting for those transition stage contractions, I knew they were close. By 1.30pm they were becoming regular and incredibly intense, the only pain I felt was still low down at the front, no pain in my back at all.
At 2pm I asked Matt for a muesli bar. We had a bit of a giggle about my last homebirth and how I started eating a muesli bar, promptly went straight into transition and ended up throwing it half eaten onto the bed. I said I would scoff this one as fast as I could just in case.
I took one bite, a big contraction came with lots of pressure in my bum - muesli bar gets thrown on the bed. I'm in transition and the contractions were one on top of the other. I honestly felt like the next contraction started before the last one finished. I started getting a bit more vocal now, moaning through each contraction. I felt baby move down.
2.25pm and I felt the urge to push. I didn't feel like I had the energy to push so I just breathed through the contraction until I could muster up the energy to start pushing. I'm extremely vocal at this point, afterwards Mel said I wasn't very loud but I felt like I was extremely noisy. I was aware of the sound of Karin's camera, she was somewhere behind me. As baby's head starts to crown I feel my waters burst and her head move down even further. I'm hanging on to matt's calf with one hand and his jumper at his waist in the other - I'm pretty sure I was hurting him but he was fantastic, whispering in my ear and telling me what a great job I was doing and that our baby would be with us soon. At some points during a contraction, I felt like I was losing control a bit, Mel was wonderful though - gently guiding me through and telling me when to just breathe, it made a world of difference.
Still pushing and baby's head is out, I remember hearing Mel saying she could see bubs nose. I felt the baby turn - such a weird sensation - and then with the next push the baby was out! I immediately said 'Oh, that's better'. Mel tells me to pick up my baby and I push back from the edge of the pool and look down in front of me. The water was all cloudy and I said 'where is she?!', everyone laughed but I was serious! I reach down in front of me anyway and catch a glimpse of black hair - my baby! I lift her to me and can't get over how much she looks like her older brother, Owen. Now I'm exclaiming how sore my bum is(it really was sore, I don't remember it being that sore with the other kidlets) and needed Matt's help to sit back in the pool, the baby had a short cord as well making it difficult for me to move around.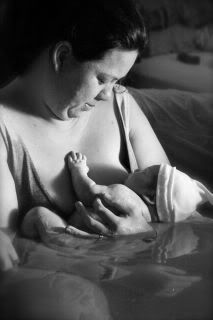 We're finally settled on one side of the pool and Mel comments how much vernix there is(hence the cloudy water). I quickly had a peek between bub's legs to confirm that she is in fact as she.
I get out of the pool at 2.40pm because I'm feeling cold in the water, I needed lots of help getting up because the cord was still attached and I couldn't lift her any higher than my belly button. We settle in bed and baby Tahnee has her first breastfeed at 2.55pm. The placenta is born at 3.13pm and Matt cuts the cord. Then I snuggled down in bed with our beautiful daughter.
Tahnee Liliana was 4kg(8lb 13oz), 48cm long with a head circumference of 35.5cm.